Danica Patrick Peronal



Patrick is recently engaged and lives in Phoenix, Arizona. She has a pet miniature schnauzer named William Robert, Billy for short. In her spare time she likes to shop, Best Buy, Arden B and BCBG are among her favorite stores. She also loves to workout and she religiously watches Regis and Kelly.

An avid fan of music she likes everything BUT country and classical. Her favorite singer is Alanis Morissette and she also list Norah Jones, Queen and Nelly among her favorites.

Once an aspiring musician, she played flute and sang in the choir in high school.She is a frequent movie watcher who prefers comedies, especially those with Adam Sandler and Jim Carey. Her favorite actresses would be Julia Stiles, Julia Roberts and Nicole Kidman.
Atlanta Motor Speedway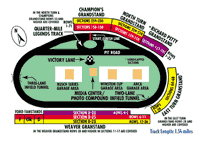 Since being purchased by Bruton Smith in 1990, Atlanta Motor Speedway has become an ultra-modern, multi-purpose venue that has raised the bar of excellence. Amenities include a nine-story office/condominium complex, improved parking, over 53,000 additional permanent seats, a road course, a four-color electronic message center, a new ticket office and gift shop.
Contact Information
P.O. Box 500 Hampton, GA 30228 (770) 946-4211
Autodromo Hermanos Rodriguez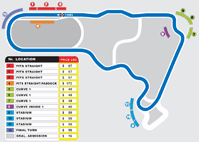 Autodromo Hermanos Rodriguez is a 2.518-mile road course located approximately 15 minutes from the center of Mexico City. The original Autodromo Hermanos Rodriguez track was built in 1963 for Formula One events. That circuit raced at the facility from 1963 to 1970, and then returned to race there from 1986 through 1992. Racing has a rich tradition in Mexico. CART first raced at the facility in 2002. The three-day total attendance for the trackýs 2003 CART event was an astounding 402,413, with a crowd of 221,011 on race day.
Contact Information
Mexico City, Mexico 15850 52-55-5322-4500
Bristol Motor Speedway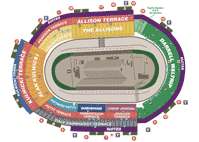 Bristol, one of the shortest tracks on the Nextel Cup circuit, has the highest banking, making for an appealing combination for driver and spectator alike. Added to the schedule in 1961 and resurfaced from asphalt to concrete in 1992, Bristol's attendance has increased from 18,000 to well over 160,000 with the reconstruction of the speedway's backstretch.
Contact Information
151 Speedway Blvd., P.O. Box 3966 Bristol, TN 37625 (423) 764-1161