Gateway International Raceway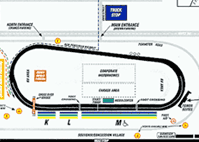 Auto racing has a rich history in the St. Louis area, and the area has produced some of NASCAR's brightest stars. Gateway is equipped to host almost any form of major league motorsports on its egg-shapped oval with two unique sets of turns, a 1.6-mile road course and a quarter-mile drag strip.
Contact Information
700 Raceway Blvd. Madison, IL 62060 (618) 875-7550
Homestead-Miami Speedway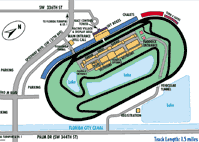 NASCAR racing made its debut in the Miami area in 1995, drawing a sellout crowd of 60,000 to its first event. The track has a $100 million annual impact on the local economy and draws more than 300,000 racing enthusiasts annually to the area.
Contact Information
1 Speedway Blvd. Homestead, FL 33035 (305) 230-7223

Indianapolis Motor Speedway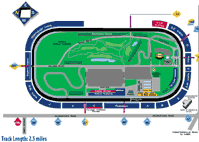 Indianapolis Motor Speedway Built originally as a test facility for the burgeoning Indiana car industry, the track was paved with 3.2 million bricks following a series of races in 1909. Since 1911, the Brickyard has hosted one of the most famous races in the world -- the Indianapolis 500-Mile Race. In the inaugural 1994 Brickyard 400, Hoosier fan favorite Jeff Gordon won the first of his three titles.
Contact Information
4790 W. 16th Street Speedway, IN 46222 (317) 481-8500
Indianapolis Raceway Park
This historic racing facility had its beginnings as a dream on the part of 15 racing professionals and area businessmen. It is now the site of three world-famous race courses -- a 4,400-foot drag strip, a .686-mile oval and a 15-turn, 2.5-mile road course.
Contact Information
10267 East U.S. Hwy 136 Indianapolis, IN 46234
(800) 884-6472

Infineon Raceway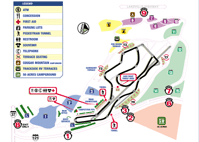 Infineon Raceway is one of the premier road racing venues in the country, and one of the few on the Nextel Cup Series circuit. The facility first opened in 1968 and serves as the gateway to the beautiful and scenic Sonoma Valley, which serves as one of the top wine-producing regions in the world.
Contact Information
Highways 37 and 121 Sonoma, CA 95476 (800) 870-7223
Kansas Speedway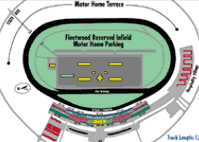 Kansas Speedway boasts great views from every seat and easy access in and out of the 1 1/2-mile, state-of-the-art facility, a response to growing interest for motorsports entertainment in the Midwest. Though the tri-oval track design is not unique to Kansas Speedway, a slight difference in the banking makes this track unique.
Contact Information
400 Speedway Blvd. Kansas City, KS 66111 (913) 328-7223
Kentucky Speedway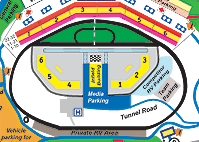 Co-owned by Jerry Carroll and developed on 1,000 acres, the $152 million Kentucky Speedway is a state-of-the-art venue for all stock and open wheel racing series. The speedway features a 1.5-mile tri-oval, quarter-mile paved track and parking for more than 30,000 cars and 2,000 RVs.
Contact Information
Hwy. 35, Rte. 1, Box 15 Sparta, KY 41086 (888) 652-7223